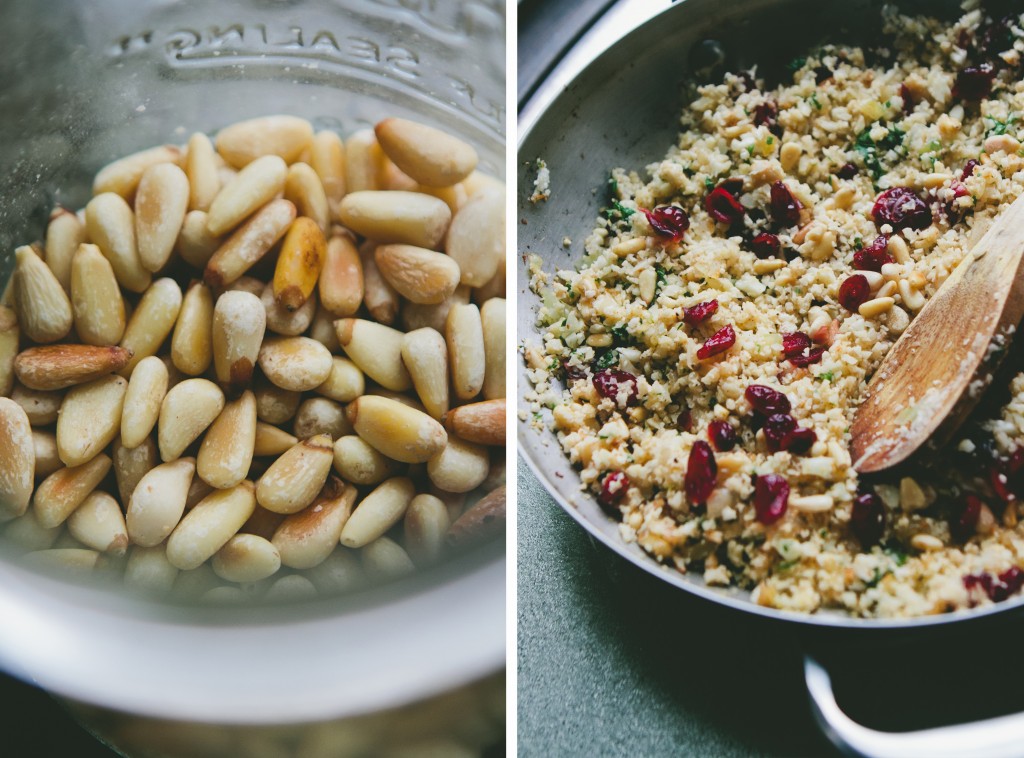 Am I the only one who spends a lot of time thinking when they're in the shower? Often I just stand there, singing along to songs on the radio, pondering the day's activities. And when I'm gearing up to work on a recipe, it's during this time that my best ideas emerge.
I'm probably not the first person to come up with cauliflower "couscous" but when it popped into my brain, well, I must admit that I gave myself a pat on the back. I know... I know. Show a little modesty, Brian. But, hey, I was proud of myself. It's not often that one of my crazy concepts actually works, so when it not only met my expectations, but exceeded them, I was beyond giddy.
Just to clarify, this is not actually couscous, but a gluten-free substitute made from cauliflower. That's why I put the quotation marks in the title... in case you were wondering.
On a separate note, I realized that I completely forgot to share this post I did for the Kinfolk Magazine online journal on the Siena Farms South End store. Head on over to the Kinfolk site to check it out.
Cauliflower "Couscous"
serves 4 as side dish
Ingredients
1 large head of cauliflower
2 tablespoons olive oil
1 yellow onion, chopped
2 garlic cloves, minced
2 tablespoons fresh parsley, chopped
1/2 cup dried cranberries
1/4 cup pine nuts
1 teaspoon cumin
1/2 teaspoon paprika
1/2 teaspoon cayenne pepper
Salt and black pepper, to taste
---
Special Tools
Food processor
Directions
1. Break the florets away from the rest of the head of cauliflower, making sure to leave behind as much of the stem as possible. Chop the florets into smaller pieces and then transfer to a food processor and pulse until the pieces until they are finally chopped and resemble couscous.
2. Place the dried cranberries in a bowl and pour warm water over them to plump them up. Let sit for 15 minutes.
3. In a small saute pan, heat the olive oil on medium heat. Add the onion and cook for 3 minutes, or until onion is translucent. Add garlic and season with salt and pepper, and, stirring often, cook for another minute.
4. Add the cauliflower couscous to the pan, season with cumin, paprika, cayenne pepper, and additional salt and black pepper. Cook for another 3-4 minutes.
5. In a separate skillet, toast the pine nuts over medium-low heat. Make sure to shake the pan frequently to ensure they toast evenly and don't burn (note: watch them carefully as they can quickly go from perfectly toasted to burnt).
6. Drain the bowl of cranberries and add them, along with the toasted pine nuts and chopped parsley, to the couscous mixture. Taste for seasoning and, if necessary, add salt and pepper.