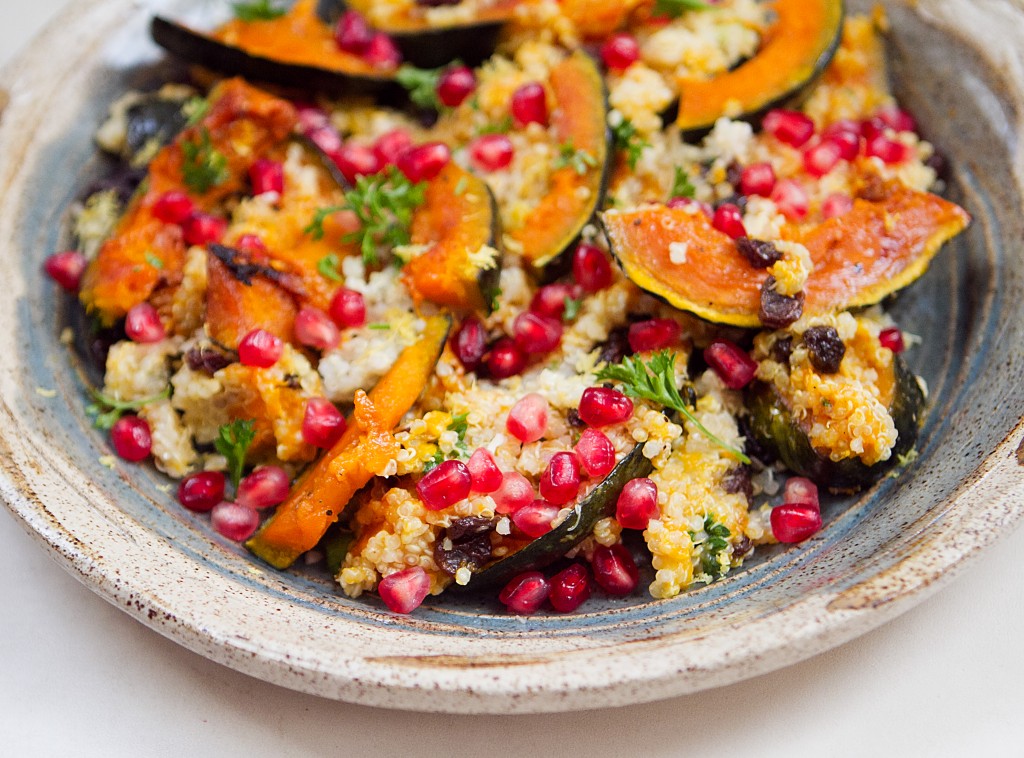 I'd call this dish a happy accident. Here's the short version of a long story. There were plans to roast a whole eight pound fish at our Friendsgiving dinner a few weeks ago. Why? Well, I don't know. I wanted to... it sounded like fun. Do I need a reason? I'm crazy! We were very close to actually doing it and then someone (cough, cough --- Eric --- cough) decided they'd be practical and bring up that maybe we didn't have enough space in our oven to roast a whole fish. Now, I was under a lot of stress at the time and I COULD have freaked out (I've been known to throw tantrums in the midst of party planning). But I didn't. I kept my cool and said, "Ok, darling husband, now I need to think of something to make for those that don't eat meat." I took a deep breath, looked at the ingredients on hand, and came up with this quinoa dish.
So, I guess I have Eric to thank for this creation.... thanks for poopooing on on my dreams of roasting a whole fish. Without you, I wouldn't have created this fabulous recipe.
Quinoa with Acorn Squash and Pomegranate
Serves 4 as an entree, 6 as a side
Ingredients
3/4 cup of quinoa, cooked
1 acorn or kabocha squash
3/4 cup pomegranate seeds
1/4 cup raisins
2 teaspoons minced fresh parsley
2 scallions, green parts only, chopped
1/4 cup olive oil, plus more for roasting squash
2 tablespoons lemon juice
Zest of half a lemon
Salt and pepper
Directions
1. Preheat oven to 400 degrees. Line a baking sheet with aluminum foil.
2. With a sharp knife, cut the top and bottom off the squash. Cut the acorn squash in half lengthwise and, using a spoon, scoop out the seeds. Cut each piece in half again lengthwise. Then slice each quarter lengthwise, creating 1/2 inch slices. Place squash slices into a bowl and drizzle with olive oil and a sprinkle of salt. Spread across the pan and arrange so each piece sits flat. Roast in the oven for 25 minutes.
3. Meanwhile, make the dressing by whisking together the 1/4 cup of olive oil, the lemon juice, lemon zest, parsley, and scallions. Season with salt and pepper, to taste.
4. Once the acorn squash is finished, remove from the oven and let cool for a few minutes.
5. Mix together the cooked quinoa, pomegranate seeds, raisins, and dressing in a big serving bowl. Season with salt and pepper, to taste.
6. Top with roasted squash pieces and enjoy!