Some people just grow up with a brand. For me, it was Canon. It's what my parents purchased, thus it's what I learned on. When I bought my first camcorder in film school, it was made by Canon. As Eric and I started taking trips early on in our relationship, it was a Canon PowerShot digital camera that we picked up. So, it made sense that when I started getting more passionate about food photography and blogging that my first DSLR would be from Canon (naturally, a EOS Rebel DSLR).
Over the last five years of taking pictures (thousands and thousands of them), I think I've grown a lot as a photographer. In part, it has to do with the amount of experimentation I've done; working with natural light, some basic styling, and composition to get the right look and feel for each dish. But there's no denying that the equipment I've practiced on has influenced my work.
Initially, I shot everything for A Thought For Food using the lens that came packaged with the camera body (often referred to as a "kit lens"). It was an 18-55mm f/3.5-5.6 and the results were ok... but the images were lacking the depth that I strove for. After researching lenses, I decided to purchase an EF 50mm f/1.8 II lens. Everywhere we traveled, every time we went out for lunch, I took that with me. It was light and compact, making it ideal for getting in some quick shots at a busy restaurant. I began a series of posts called Silent Sundays, where I did my best to capture the essence of these establishments. A few months later, I was asked by one of these restaurants to take professional photos for them. They liked what they saw in the Silent Sunday post and wanted me to come in to photograph their new menu items, as well as action shots of the dining room and in the kitchen.
After more work came in, I knew an upgrade was in order. The best resource out there are other photographers, so I reached out to the ones I'd become friendly with. Everyone told me the same thing: spend the money on lenses... then upgrade your body when you're ready. Since I'm doing a combination of food/restaurant photography, as well as general lifestyle work, I wanted something that would be versatile, allowing me to not only take pictures of dishes and ingredients, but portraits as well. I borrowed a friend's EF 24-70mm f/2.8L II USM lens and knew that'd be the one to get the job done.
From there, I upgraded my camera body to an EOS 7D. Then I picked up some more lenses: an EF 50mm f/1.2L USM (a worthwhile purchase because of its wide aperture and USM (UltraSonic Motor), which allows the lens to autofocus faster than other models,), an EF 100mm f/2.8L Macro IS USM, and an EF 17-40mm f/4L USM. Last year, I bought the Canon EOS 5D Mark III (which has a full-frame sensor, versus the EOS 7D which is a crop-frame) At $3400 it's a scary purchase, but I'm absolutely in love with it. For those who feel ready to make the investment, you won't regret it.
Now that I've given you a little backstory, let me explain what's going on here. A few months ago, Canon asked me to talk a bit about how I use their lenses to photograph restaurants. To demonstrate this, I went to one of my favorites in the area, West Bridge. The design of the space is some of the best I've seen. There's a balance between rustic and modern that they've nailed and this also comes through in the food created by Matthew Gaudet.
You can view more restaurant images over on my portfolio site.
Interiors + Exteriors
Dining at a restaurant isn't just about eating and drinking, but environment and mood too. Before photographing a dish, I capture other details: table setups, the bar, the kitchen, as well as any signage or outdoor dining area.
The majority of the time, I'm using one of two lenses: the EF 17-40mm f/4L or the EF 50mm f/1.2L. The EF 17-40mm f/4L is a wide-angle lens, and, therefore, is able to take in a large amount of space in a single shot. The lens also works well in tighter spaces, such as restaurant kitchens. This is what I use almost exclusively for photographing dining rooms. It should be noted that, like all lenses, the results are different if you're using a crop-sensor camera. It's a bit more noticeable, though, when using a wide-angle lens, as you won't capture the same area that you would on a full-frame camera.
When I want to feature a specific section of a dining room or focus on certain details (a row of tables, light fixtures, patrons sitting at the bar, etc) I switch to the EF 50mm f/1.2L. This lens, with its large aperture (models vary: f/2.5, 1.8, 1.4, or 1.2) allows for a shallow depth of field; a single item can be in focus when everything beyond it is blurry. I'll use this when I want the image to feel like it's from the perspective of the patron: looking across a long line of tables or down at a menu. This is seen in the above vertical images of the dining room and table with a place setting. Since I wanted to keep the majority of those images in focus, I went with a higher f-stop (f/6). Yes, the background is a bit blurry, but the table, plate, glass and chair are all crisp. However, you can see the difference if you look at the below food image (labeled "Quinoa, Char and Kale Salad: Left: Canon EF 50mm f/1.2L USM lens, Right: Canon EF 100mm f/2.8L Macro IS USM") that I shot at f/2.8. The dish is in focus, but the areas in front and behind are not. For more tips, and information, be sure to check out the Canon Explore Lenses website.
The size of the aperture on the EF 50mm F/1.2L makes it so more light can enter through the lens opening, thus making it ideal for low-light environments. This can be the case with a dining room, which are usually not well lit (especially during dinner service). The wide aperture allows me to shoot at a faster shutter speed (resulting in a crisper image) or a lower ISO setting (resulting in less grain (or "noise") in the photo).
What's nice about photographing a restaurant using a fixed lens like the EF 50mm f/1.2L is that, as you walk around the restaurant looking for something to take a picture of, you already know the field of view that you're working with. This means that, in your mind, you already have your shot composed, even before you bring the camera up to take the shot. If I were to use a zoom lens, I'd have to look through the viewfinder and then compose my shot. I find this experience far more enjoyable.
Food
For photographing food, I'm often inclined to go with a fixed lens: the EF 50mm f/1.2L or EF 100mm f/2.8L Macro IS USM. The main reason for this is because the subject I'm shooting is stationary and, therefore, zooming in and out isn't necessary. The EF 50mm f/1.2L is the lens I use most frequently since the EF 100mm Macro would require that I stand in the middle of the dining room to capture a dish. I not only want a crisp, clean shot of the food, but it makes the subject more compelling to get some of the environment around the plate, which the 100mm won't provide.
With that being said, there are some instances when the EF 100mm f/2.8L Macro lens comes in handy. For example, there are times when a portion of a dish is more visually interesting than the whole plate. We'll use the beet and salmon roe toast featured below as an example. While this is a gorgeously composed plate, I find that the textures and colors of the dish are what really make it so striking. Therefore, getting in nice and close to the layers of beet, mustard, and roe, showcase it better than the shots photographed with the EF 50mm f/1.2L or EF 24-70mm f/2.8L .
Speaking of the EF 24-70mm f/2.8L. For a while, this was the lens I used exclusively for photographing food. And it does the trick. While I don't use it as often, I find that it comes in handy when I need to get an overhead shot of a table with multiple plates on it. The EF 50mm f/1.2L, as you can see, isn't wide enough (I'd have to stand on a chair or ladder to make that work). The EF 100mm f/2.8L Macro definitely wouldn't be the right lens. With the EF 24-70mm f/2.8L, I can usually hover above the table and get the shot that way... but I'm also 6'1" tall.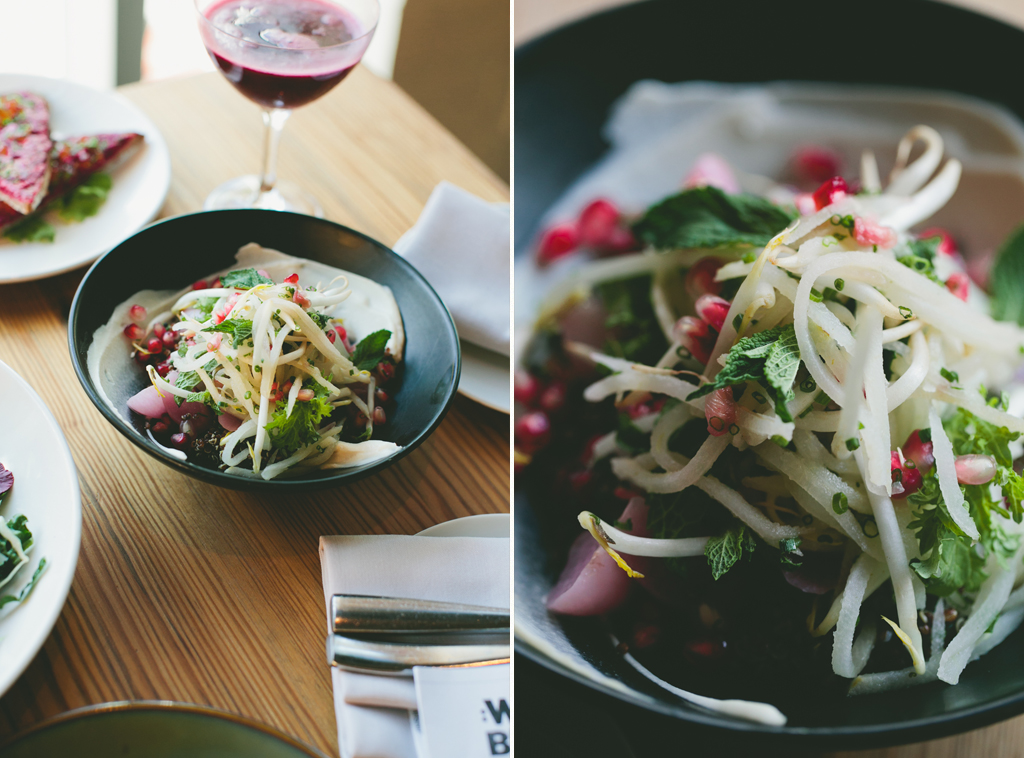 Wrapping Up
Yes, this has been an epic post... but a few more notes.
As I mentioned earlier, the lenses are where you should be investing your money. If you're just starting off in the world of food photography, I'd suggest starting off with an EOS Rebel DSLR and an EF50mm. In fact, I had the pleasure of testing out a newer model of the Rebel, the EOS Rebel T5i, and an EF 50mm f/2.5 Compact Macro lens, which Canon sent along for me to play with. One thing I enjoyed about it, which I wasn't quite expecting, was how light it is. I've been carrying around a hunky camera for the last few years and it gets exhausting after a while (again, it's totally worth it). The EF 50mm f/2.5 is a great intro into the world of fixed lenses. It's not an expensive investment and you'll see a huge difference from any smart phone pictures.
And before purchasing any very expensive lenses (we're talking $1000+), I'd suggest renting them from a photography store. For under $100, you can make sure that the lens works for your needs.
DISCLOSURE: This post was sponsored by Canon. As described earlier in this post, I've been a long time fan of their camera equipment. All thoughts and words are my own.